Running Times
When scheduling the haul, the operator should keep in mind that hours of movement may be restricted. The rules and regulations enforced by the state transportation departments often include added delays. Many states restrict movement on Federal and even state holidays.
Permitted travel times vary widely between states, and in cities and communities within a state. Many states restrict movements of oversized loads to daylight hours. These restrictions may only apply to state highways and not Interstates, or to all roads. These restrictions may also vary according to the size of the oversize load: for example, loads greater than 10 feet wide may be restricted to daylight hours, while oversize loads no more 10 ft. wide may move at night on Interstates and four-lane divided highways. In some cases, maximum width loads may be required to move at night during periods of least traffic. When moving loads through several states, operators must review the requirements on each permit for each state to fully understand and comply with each set of regulations. Also note that overweight loads that are NOT oversize, may travel at times that oversize loads may not.
Safety Equipment
Every oversize/overweight load requires certain safety equipment and must follow specific operating procedures to ensure the safety of the operation and to alert other vehicle operators on the highway.
"OVERSIZE LOAD" or "WIDE LOAD" Banners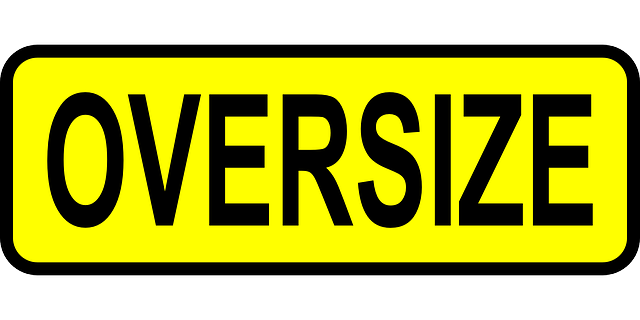 Safety equipment includes warning signs such as "OVERSIZE LOAD" or "WIDE LOAD" banners on the front and rear of the vehicles hauling the load and/or the escort vehicles accompanying the load. The size of the banner varies from state to state, but most require a banner that is 7 feet wide and 18 inches high with letters that are 12 inches high. All banners require black letters on a yellow reflective background. Banners should be mounted high enough to be clearly visible to other drivers. In a very few states, the hauling truck is not required to have the banner if pilot or escort cars have the required banners.
Tall Loads
Move the slider to see an interactive animation
---
Wide Loads
Move the slider to see an interactive animation
Warning Flags and Lights
An over-width or over-length vehicle/load combination requires bright red or orange warning flags (daytime) or amber and red lights (at night) at the extreme corners and extensions of the load. Flags must be securely attached to the load by one corner or displayed on a flag staff. Flags must be either 18-in. square or 12-in. square, depending on state requirements. Flags should be clean and in good condition. The illustrations below demonstrate proper placement of warning flags. Note, some states may also require warning flags on the front of the tractor.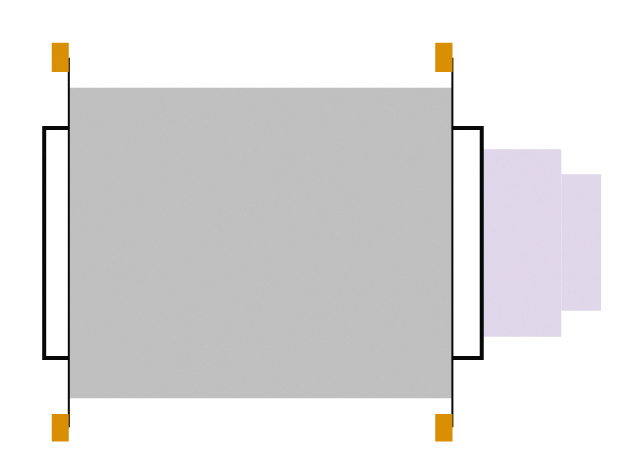 Typical flag placement for an oversize load. (At the extreme corners of the load protrusions)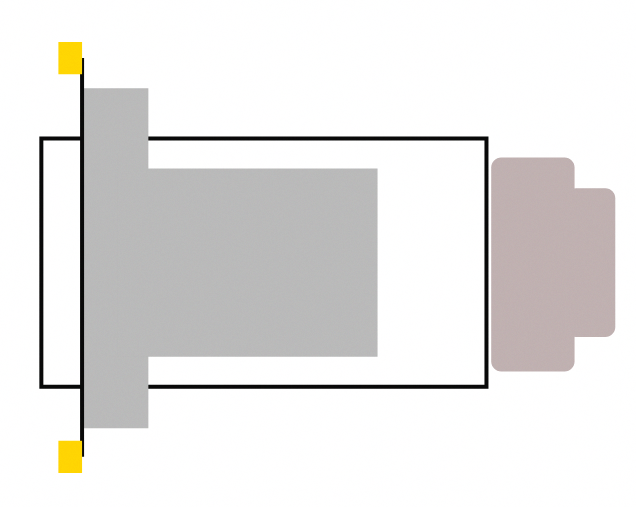 Flags may be needed only on the ends of simple protrusions
if no other part of the load exceeds the legal limits.
Warning lights are required for movement at night and during periods of reduced visibility. Warning lights should be either amber (forward and sides) or red (rear and rear overhangs) and should be visible for up to 500 feet. In some states, flashing or strobe lights are required. Warning lighting follows a locating pattern similar to the placement of flags.
Loads that extend beyond the ends of the hauling vehicle are called "overhangs." The extremities of rear overhangs that extend more than 4 feet beyond the vehicle must be marked with flags (daytime) and red lights (night) (longer overhangs are legal in some states). If the overhang is less than 2 feet wide, a single flag or light at the end of the overhang is required. If the overhand is more than 2 feet wide, the rear corners of the overhang should be marked with flags (and lights if required for night movement) in the illustration below.
Flags (and lights, if needed) for overhangs should be displayed as shown. During daylight hours a single flag at the end of the overhang that is less than 2 feet wide is required. If the overhang is more than two feet wide, a flag at each corner is required.
Some states require a rotating or flashing amber light atop the cab of the towing vehicle. The requirement for escort vehicles also varies by state. Some states require all oversized loads to be accompanied by escort vehicles, while others require escorts for oversize loads that exceed certain dimensions.
Note: Most states will allow operation of vehicles with banners and lights that vary from their requirements if the load markings comply with the requirements of the originating state. This, however, should be confirmed during the initial permitting process.