Introduction
Many are unaware that state permits for an over dimensional load may not be the only permits required for the movement. While state permits are always required, municipal (city) permits may also be required if your route is taking you through city streets where oversize loads are generally not a welcomed sight. City streets present a unique challenge to over dimensional movements because of factors such as: proximity to other travelers, proximity to various utilities, and infrastructure not as well equipped to handle the stresses and strains that these types of loads exert.
Considerations
Major cities usually have their own separate permit authorities in place. The money that they generate from these permits is poured back into the infrastructure that the over dimensional movements damage over time. Each city has their own permit processes that must be observed to obtain a permit. Most cities outline how to obtain a permit on a webpage or provide a telephone number for you to call. Oversize.io has provided a complimentary list of some cities below, simply click on the city and the link will take you to the specific web page that will instruct you on how to obtain a permit.
What about cities that aren't listed? Consider your route, origin, and destination. Does your movement begin or end in a city center? If so, it is best to use an internet search engine. Let's say your origin for an over dimensional load begins in Tulsa, OK. Use a search engine, say something along the lines of "Does Tulsa, Ok require city permits for OD loads?" Let's see our results: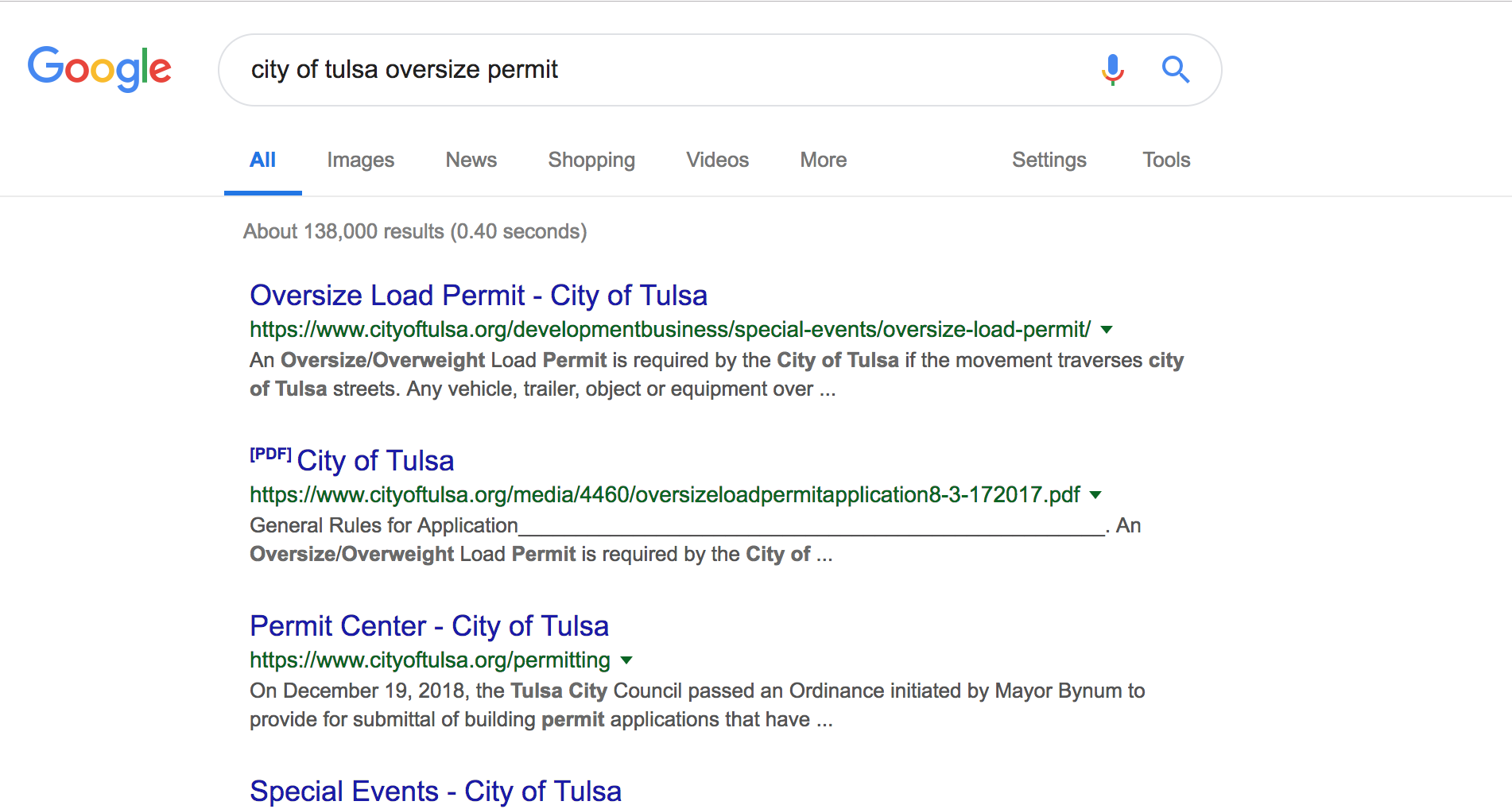 We select the first option in this case, and we see that the city of Tulsa does require city permits. Their webpage explains exactly how to obtain them, however Oversize.io can order them for you. We understand how hard you work to keep your trucks running, and that you may not have time to deal with every detail personally. Oversize.io is here to be your one stop shop for all needs concerning your over dimensional movements.